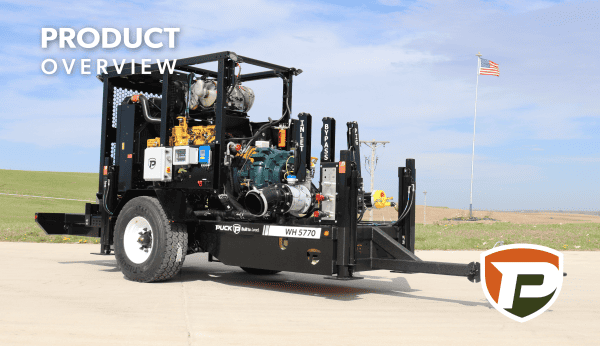 May 16, 2023
WH 5770 Product Overview
Initially, Puck built our reputation through quality manure pump units and high-performing manure dragline equipment based on firsthand experience in the field. Puck Booster Pumps are the most robust, durable manure pump units on the market. With more gallons pumped per gallon of diesel consumed, these pumps are high-flow, high-efficiency pumps.
The Warthog 5770 is a single-axle booster pump with a 577 horsepower Cat engine and a Cornell 6819 MPC pump. The Cat Tier 4, Stage IV engine features increased engine power with reduced emissions and fuel consumption. The high-flow, high-efficiency Cornell pump has fine tune adjustment bolts, white iron components, Krohne Flowmeter, and a 3 inch wide impeller. These features make it a standout pump in the manure industry.
What makes it a warthog is the ability to power and control a separate pump in the manure. Through Lightspeed controls, and the correct pairing of horsepower and pumps, the Warthog can seamlessly run a lagoon feeder as one unit. When the Warthog isn't needed as a lead pump, the hydrostat can be disabled. When that happens, the hydraulic bypass allows this unit to be put in line as a booster pump.  
The WH 5770 comes on a PB3 chassis, which has three 123 gallon fuel tanks. Additionally, the chassis has a downrigger on all four corners to stabilize and level the unit. Even with the capacity to run more than 4,500 gallons per minute with this pump, the compact design allows for ease of transport.
As a standard feature on all Puck pumps, the WH 5770 comes with a LightSpeed control panel. LightSpeed gives the pump higher flow rates across greater distances and increased equipment safety. When paired with the industry-leading wireless control of LightSpeed, you can set your operating parameters and LightSpeed will automatically adjust the pump throttle for optimal performance. This gives you near real-time pump control, accessible anywhere from any device.
For more information on the capabilities of the Warthog 5770, check out the product overview video or product flyer. You can also contact a member of our sales team to find out how the Warthog can help your operation.