LightSpeed Control System
LightSpeed technology comes standard on all Puck pumps, so all your pumps will be protected and monitored by the watchful eyes of this powerful platform. Regulate pressures and add another layer of safety without adding more people to your operation, through LightSpeed's advanced pump protection technology.
LightSpeed Features
Real-time asset control
Intuitive, web-based operating platform
Auto-throttle settings for each unit
Warning indicator for machine vitals and operating parameters
Accessible from any connected device
Can be used with any carrier, plan or device.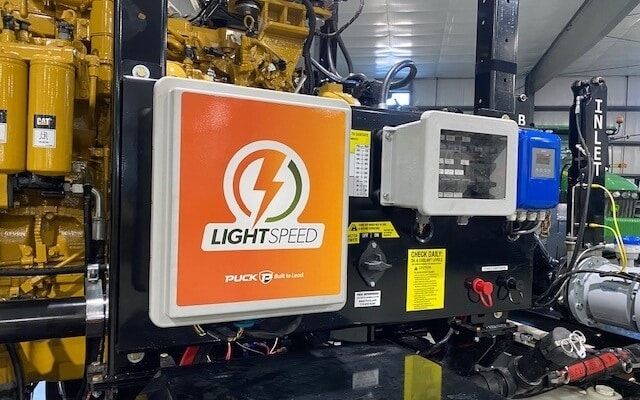 Simple Startup And Navigation
Operate your entire pump control system from a single screen. Live numbers, instant control, constant monitoring, site mapping, and detailed diagnostics are all in one place, with a user-friendly design. Limits are built in the pump structure to protect your hydraulic systems.
Pressure-regulating Throttling
Auto-Throttle allows the unit to regulate pressure, with preset inlet and outlet pressures helping maintain safe operating levels. This protects your pump from cavitation and maximizes flow rates. Your pump will automatically throttle up and down based on user-defined variables.

Monitoring From Anywhere
Flow rate, pressures, pit level, temperatures and all other operating parameters from the site are all transmitted through LightSpeed, so you can ensure everything is working correctly — no matter where you are. With LightSpeed, you are able to use whatever cellular carrier, plan or device you want.
Detailed Diagnostics & Maintenance Records
With LightSpeed's in-depth pump diagnostics, you're able to check the status of each fuse, relay, sensor, and the power being used by each output. LightSpeed records the hours the engine oil, air filter, hydraulic filter pump gearbox, and other parts were changed, so you to know when service is needed.
Industry-Leading Technology
After more than four decades of experience we know that balancing multiple pumps on a single line is one of the hardest parts of the job; which is why we created LightSpeed.
Experience real-time two-way control and enhance your operation with the most dependable control system on the market today. And, our touch-screen interface is easy.