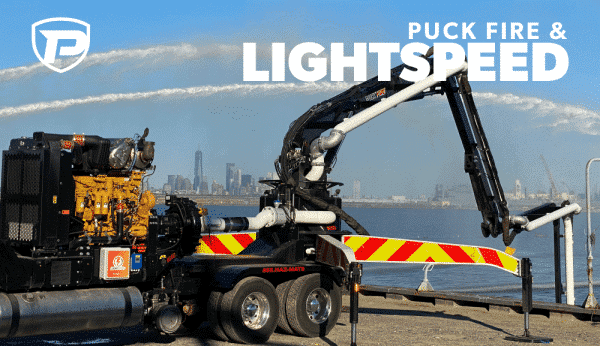 May 9, 2023
Firefighting with LightSpeed Technology
Firefighter safety on an active fire scene is of utmost importance. Real-time data and equipment efficiency are vital to making the correct calls on the scene. With LightSpeed control systems, complete control is at your fingertips - however close you are to the task at hand!
In the last 15 years, Puck has engineered, designed, and perfected the LightSpeed control system for the liquid transfer business. This technology has been tried and tested in order to provide users with the best possible up-time and utilization of employees and resources that they have available for their operation. For the firefighting industry, LightSpeed is an easy-to-implement, highly reliable product. LightSpeed takes and makes use of technology leveraged in other water transfer businesses to make firefighting easier and safer.
How it Works
The LightSpeed control system uses two components; hardware and web technology. The hardware resides locally on the apparatus or pumping equipment. The web technology is developed and housed in the cloud. These two components allows users to operate or monitor the equipment from a safe distance away. The technology allows users to monitor the apparatus engines, pumping engines, gate statuses and positions, and situation-based operating parameters. Operators are given information regarding the job being conducted in as close to real-time as possible. The embedded hardware and the rugged controls that are pushed to a web-based platform make this possible.
By utilizing the web technology—which gives users the ability to see controls from multiple locations at once—remote users are able to monitor and supervise situations on the ground in near real-time. Operators can make operational decisions out of the heat of the moment and place resources as efficiently as possible. By choosing LightSpeed, you are choosing to leverage technology time-tested and proven by leaders in the liquid transfer industry. These users have and continue to benefit from the improved ground operations, performance, quick deployment, and increased operator safety.
Explore Puck's line of firefighting equipment, which come standard with LightSpeed technology, or our full line of liquid transfer products to fit your department needs.