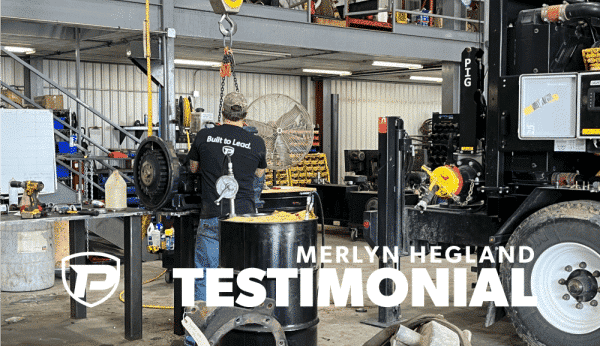 May 23, 2023
Merlyn Hegland: Customer Testimonial
Puck Lead Trailers bring world-class pumping capabilities to your liquid delivery operation. Built from experience, our lead trailers set up in minutes and deliver safe, efficient performance in any pumping situation. Merlyn Hegland, a farmer in central Iowa, says that Puck equipment has improved his work immensely compared to previous years with different equipment. "It's more efficient, more power[ful], faster. It's all better."
Machinery maintenance is a vital part of keeping your operation running smoothly and efficiently. However, taking care of equipment can be a major undertaking if you don't have the time to spend on it. To retain the best results from his pumps, Hegland receives regular service for his pump equipment at our Manning location. "Service has been good," states Hegland. "They try as hard as they can and I appreciate it."
With the Full Service Pump Trailer Package, customers receive an in-depth inspection of the chassis, the electrical and hydraulic functions, and the Cornell pumps. Regarding the chassis, our inspectors look at the junction box connections, air pressure, lug nut torque, brakes, cracks, and more. The electric and hydraulic function inspection includes gates, downriggers, sensors, boom functions, hydrostat system, and software updates. Service technicians also inspect the Cornell pumps for wear rings, suction cover, volute, impeller, seals, shaft, and more.
Service takes place at one of our three Puck Enterprises locations and covers all the important aspects of equipment maintenance for uncompromised performance. Priced at $1,200, customers also get a discount on parts and all filters, engine oils filters, and fuel filters. When asked if he would recommend the service package to others, Hegland says, "yeah, very much so. They're good people." 
As a small business owner, Hegland appreciates the effort and care Puck team members put into their work. "It's nice to work with people who totally understand what they're talking about. And I appreciate that from both the people I deal with on top and in sales down to the people who work on this stuff. They all understand what the machine is supposed to do."
Learn more about the Full Service Pump Trailer Package by reviewing our flyer. Call 712-655-9200 to set up your service package.