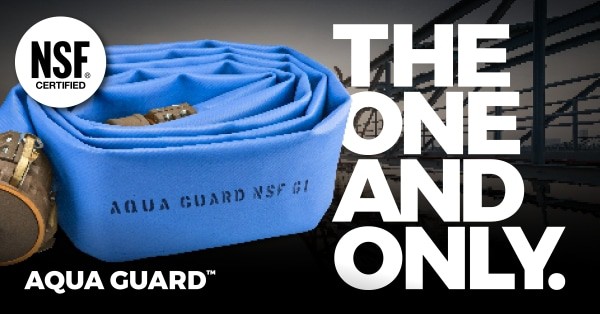 August 31, 2022
US Rubber Tech Teams with Puck Enterprises, BullDog Hose, and U.S. Coupling Municipal Potable Water Support Solution for Cal Water
Headquartered in San Jose, California Water Service (Cal Water) is the largest regulated American water utility west of the Mississippi River and the third largest in the country. Formed in 1926, Cal Water company serves 489,600 customer connections through 28 Customer and Operations Centers throughout the state.
US Rubber Tech sources the Aqua Guard lay-flat hose
Based in South San Francisco, California, US Rubber Tech, Inc. has been awarded a contract to supply Cal Water with critical potable water hose and hose reel cart assets. With that, US Rubber Tech turned to BullDog Hose and Puck Enterprises to source their Aqua Guard™ lay-flat hose and Puck's HC8 hose carts.
Manufactured entirely in Angier, North Carolina, BullDog's Aqua Guard™ hose is NSF61 certified and features a unique through-the-weave one piece construction comprising a circular woven high tenacity polyester reinforcement totally encapsulated in a tough elastomeric polyurethane cover and lining. Engineered for long life and maintenance-free service in even the harshest environments, Agua Guard™ is a premium lay-flat hose designed for the transfer of potable water to remote locations, new property developments, or any temporary lines that need safe drinking water.
Which hoses have been ordered?
Initially, US Rubber Tech has ordered the following quantities of Aqua Guard™:
One-hundred forty sections, 50-foot lengths of 6-inch.
Thirty sections, 660-foot lengths of 6-inch.
All the above are with 6-inch Storz double-collared couplings manufactured by another division of Puck Enterprises, U.S. Coupling based in Dothan, Alabama.
For logistical deployment and management of the Aqua Guard™ lay-flat hose, Puck is providing six (6) of their workhorse HC8 hose carts that are specially engineered with self-contained, gas-powered engines to drive the respective hydraulic pump systems on the carts. Manufactured in Manning, Iowa at Puck's operational headquarters, the HC8 hose carts will enable retrieval of 1-mile of coupled lay-flat 6-inch hose within an hour.
Built for easy travel, Puck's HC8 is excellent for over the road transfers, allowing quick and hassle-free travel to the next site. Additionally, Puck's HC8 has simple and innovative design features — such as a two-way, hydraulically powered controls and domed reel ends, saving wear and tear on the hose.
Contact our sales team today to learn how Puck Enterprises and its associated brands can help your specific liquid transfer needs.