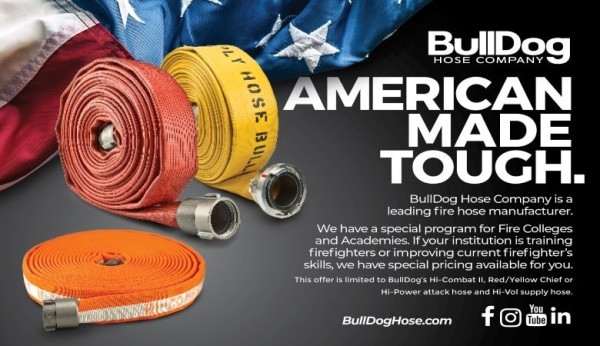 September 6, 2022
BullDog Hose Company Commits to Fire Colleges & Academies Partnering for The Future
In support of helping future firefighters prepare, as well as the continual training for those firefighters that currently serve, BullDog Hose Company has announced special pricing on select fire hose products reserved for fire colleges and academies in the USA and Canada.
Often having limited resources, these fire colleges and vital institutions help enable personnel to be ready for the mission critical, life-saving requirements expected by the fire service with communities across North America. To offer support, BullDog Hose will provide pricing concessions to these qualified schools with their Hi-Combat II; Red/Yellow Chief; and Hi-Power™ interior attack hose products as well as their Hi-Vol® supply hose.
To be sure North America's finest have the best equipment possible for training, BullDog Hose wants to make certain that the latest firehose products are readily available to them. Each of the interior attack and supply hose products noted have endured years of real-world applications and developed committed followings by multiple fire departments across the USA and Canada. The high performance and durability of Hi-Combat II; Red/Yellow Chief; Hi-Power™; and Hi-Vol®; have proven superior results time and time again. This makes them ideally suited in training scenarios for new firefighters and their peers who have served for years.
All BullDog Hose products are manufactured in Angier, North Carolina by workers who take tremendous pride in providing quality products to the fire service and firefighters serving their communities. They know what's at stake and look forward to delivering the best BullDog Hose Company has to offer for new recruits and seasoned veterans at these schools.
For more information on this qualified offer, contact sales@bulldoghose.com or your local authorized BullDog Hose distributor.