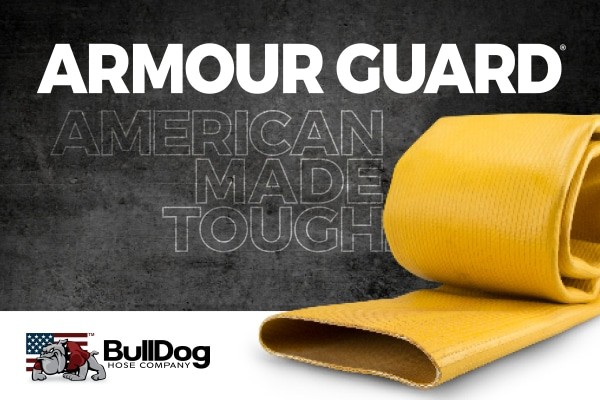 August 23, 2022
Field to Factory One Name Does It All: BullDog Hose & Armour Guard®!
Regardless of your agricultural or industrial vocation, BullDog's Armour Guard® lay-flat hose could be the all-inclusive answer for your specific requirements when moving a variety of liquids – from water to slurries. In smaller diameters, this includes use as a heavy-duty washdown or plant utility hose.
With a unique nitrile/PVC material, Amour Guard® provides enhanced durability and abrasion resistance as compared to conventional rubber hose products. The ozone-resistant synthetic rubber liner and cover totally encase and protect the high-performance inner nylon reinforcement from the effects of abrasion, chemicals, and heat. With this, Armour Guard® also cleans easily and offers ease of maintenance
Additionally, Armour Guard® features an all-synthetic heavy-duty one-piece extruded through the weave construction. This allows the hose to expand under pressure and thus decreases friction loss (especially compared to conventional jacketed hose) while increasing flow. Designed as a flexible discharge hose or supply line, Armour Guard® is available in a variety of sizes from 1.5-inch to a large diameter 6-inch configuration. This broad range of hose diameters allows multiple vocational applications for your unique needs.
Other key features of Armour Guard® include the following:
The heavy-duty special rib pattern enables exceptional abrasion and cut resistance.
With the nitrile-rubber cover, it eliminates additional weight issues caused by water pick-up with typical jacketed products.
The cover resists fuels, oils, and a wide range of chemicals for extreme durability as well as ease with cleaning.
No drying or racking is required which simplifies logistics and storing.
Best in class adhesion provides incredibly enhanced performance.
Exceptional heat resistance as exhibited in BS 6391 Hot Cube Test.
Peak performance in variety of scenarios with operating temperatures ranging from -36 degrees to +158 degrees F.
Manufactured in the USA at our Angier, North Carolina plant.
So, if you're searching for a lay-flat hose to use with irrigation; dewatering; mining; industrial water transfer; and more, take a closer look at BullDog's Armour Guard®. It may be your single answer to multiple needs from field to factory!
For more information, visit Armour Guard® - Oil and Gas Hoses | BullDog Hose Company or Armour Guard® - Agricultural Hoses | BullDog Hose Company today.