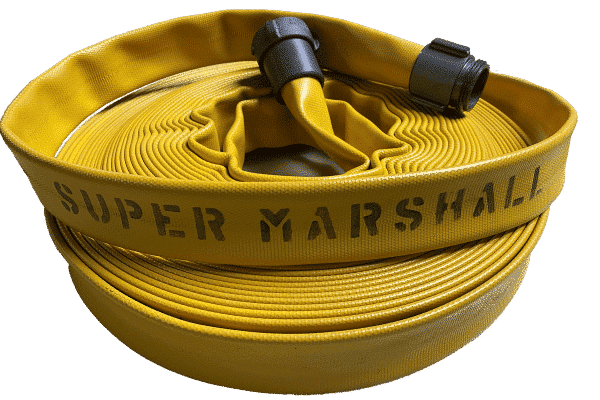 April 6, 2022
Unconventional Forestry Hose for Wildland and Urban Interface Zones
In lieu of conventional forestry hoses, BullDog's Super Marshall™ forestry hose provides a superior alternative for many fire departments. Unlike traditional woven jacketed forestry hose, Super Marshall™ is constructed with nitrile-rubber. Why is this better?
Super Marshall is the best unconventional forestry hose
First, due to the unique construction, Super Marshall™ does not require washing or drying and it is impervious to mildew. With severe or extreme outdoor exposure to a variety of ground surfaces and conditions, this can be a real advantage when the job is done. Plus, it can be a significant time saver when rapidly moving from one area to another and needing to be able to go again in short order. In terms of temperature ranges, Super Marshall™ has you well-covered with the ability to operate in conditions from -30 degrees to +178 degrees Fahrenheit. The nitrile-rubber cover even resists burns and prevents potential damage to the textile reinforcement which is a circular woven synthetic material.
Next, this same one-piece nitrile-rubber construction will not delaminate providing sound hose integrity that gives you confidence in the heat of the battle. With the same material for the inner liner, you achieve extremely low friction loss providing the flow you need to make your extinguishment as efficiently as possible. Plus, Super Marshall™ is kink resistant which is invaluable when trying to maneuver hose lines across long distances off-road.
What sizes are available for the Super Marshall?
Available with a 1.5-inch diameter, Super Marshall™ can be coupled in 50-foot; 75-foot; or 100-foot lengths. The couplings are factory installed and can be threaded or quarter-turn forestry to meet your specific requirements. For visual location ease across varied terrain and environments, the standard color is a high-visibility yellow.
Manufactured in the USA at our Angier, North Carolina dedicated manufacturing facility, Super Marshall™ is an unconventional solution for a growing challenge with forestry, brush, and wildland firefighting in the urban interface zone. 
Contact a sales team member today to learn more about this unconventional forestry hose.