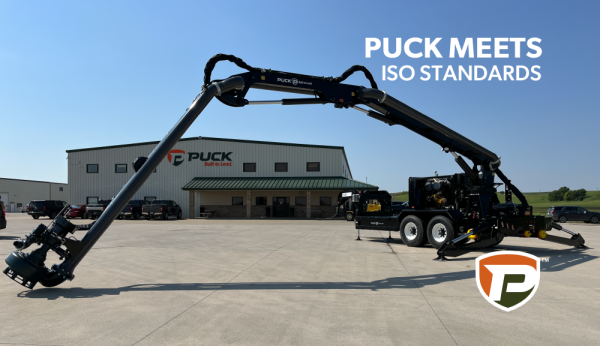 July 18, 2023
Puck Meets ISO Standards
Puck Enterprises and our Family of Brands have produced a quality management system compliant with ISO 9001:2015 standards. The International Organization for Standardization (ISO) is a group of international business experts who establish best practices that all businesses can aspire to meet.
How does this help Puck?
By establishing the Puck Quality Management System, Puck has established internal standards for ourselves to achieve improved customer and employee satisfaction. The standards set by ISO 9001 ensures that Puck is able to measure ourselves and our processes at every level of our business to ensure that we are performing at our best.
This quality management system doesn't just track product quality, but tracks our entire operating system. Some of these main points include evidence-based decision making, leadership, relationship management, process approach, and improvement. Puck internalizes these standards in our core beliefs, as we strive to achieve teamwork, vision, and enjoyment. Puck has been manufacturing liquid drag line equipment for over 15 years. In that time we've introduced many innovative ideas to our customers. The processes defined in our system compliant with ISO standards embeds a systematic approach to identify and capitalize opportunities to innovate in the industry.
What does this mean for our customers?
Implementing the ISO standards at Puck means that our company has a solid structure internally for our business needs to continually grow. This growth of Continuous Improvement is further enhanced by an avenue for feedback both internally and externally for customers. Customer satisfaction is measured and tracked as one of our key objectives. The customer requirements for products are translated into engineering requirements, design reviews, and from there into value added manufacturing processes. The stated needs for products flow throughout the production process steps. This includes inspection and testing, all the way through to the feedback loop to the beginning where we meet back up with the customer. Our product development and support processes have been standardized and documented through this ISO standardization process. This means we are reducing potential errors internally to strive to increase customer confidence in our products.
Puck Family of Brands meeting ISO standards displays a commitment to excellence that we hold ourselves to these high standards for improving the company. This, in turn, will drive improved products, and increased customer satisfaction through solid quality processes to ensure we are here to see long-term success. Customer needs can be incorporated with increased efficiency with our improved best practices in place and dozens of internal new processes defined and documented. This results in quickly addressing potential customer dissatisfaction, as well as avoiding the same mistake in the future.
Quality in our products is a given, and of the utmost importance! However, we also strive to do that by maintaining high customer satisfaction. We do this through quality of relationships, engagement with people, decision making, and quality of leadership. Puck is proud to take part in this voluntary standards certification to more effectively meet the needs of our customers. We're confident that our quality management system meeting ISO 9001:2015 standards will ensure that we maintain high performance. Additionally, it will give our customers a company they are even more confident in working with.