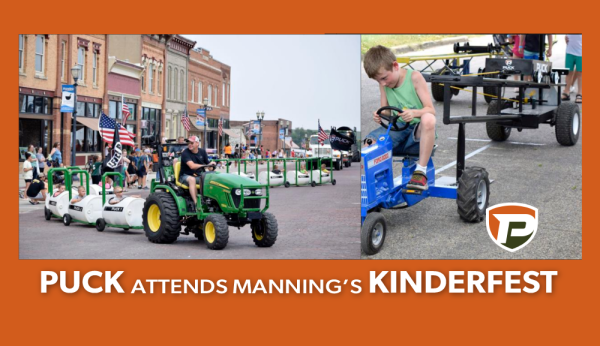 July 25, 2023
Puck Attends Manning's Kinderfest
Kinderfest, the annual German-based festival celebrating children, held its 140th celebration in Manning, Iowa on Father's Day weekend. On Saturday, June 17th, kids of all ages lined Main Street to enjoy a parade of more than 30 local organizations. Among those passing out candy was Puck Enterprises, who got their start in Manning more than 40 years ago and still do business there today.
Leading a trail of barrels made to look like Puck hose carts and turn table reels, Jeremy Puck and Doug Greving gave children rides through the cobblestone streets of Manning. Behind them, Puck trucks followed and a tractor towed a TTR 20 down Main Street. The parade had quite the crowd, with Main Street packed from beginning to end with people lining the street.
Nolan Pothoff, a lifetime Manning resident and Puck's Plant Manager, explained to the Carroll Times Herald why he thinks events like Kinderfest in Manning are so special. "The thing about Manning and Kinderfest is that it's just a great event that brings people together," Pothoff said. "It gets kids out of the house and people aren't afraid to donate to them."
After the parade, families walked over to the city park to enjoy face painting, games, inflatables, a petting zoo, and more. Among those games, Puck held a tractor pull for children, in which participants attempt to ride a tractor-themed tricycle as far as they can without letting the weight jump behind them. Every child-sized attraction Puck Enterprises brought to the event was designed to emulate real farming equipment, specifically Puck products.
Kinderfest had over 50 raffle winners, with prizes ranging from game sets to bicycles. Although, if you asked anyone who attended, they would tell you that "everyone's a winner at Kinderfest!" The entire length of Main Street was packed with parade spectators and lines for games and food remained full for the duration of the day. With a community like this, it's obvious that everyone in Manning and the surrounding area is a winner.