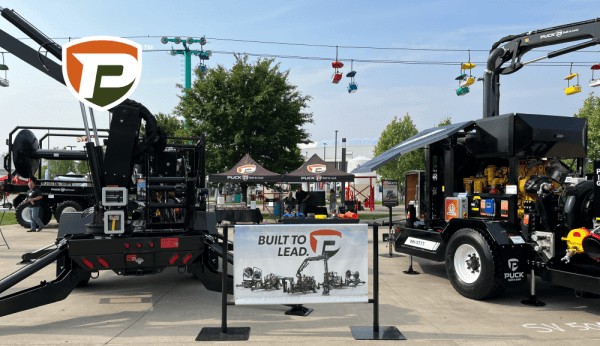 June 13, 2023
Puck Attends World Pork Expo 2023
At the Iowa State Fairgrounds in Des Moines, Iowa, Puck made an appearance once again at the World Pork Expo. The 2023 trade show took place June 7-9 to introduce new products and network with industry professionals. Puck rolled up to the world's largest pork-specific trade show to display some of our liquid transfer equipment, including the FF 5770 T force feed, the new FF 3309 T force feed pump unit, the WH 5777 lead pump, the AGI 1708 S, and our flagship TTR 20.
We set up our outdoor exhibit at booth #SV500, just outside the varied industries building, and met with pork producers and ag professionals from all over North America. In addition to our pump and hose cart equipment on display, we had some hose samples and couplings and fittings on display from BullDog Hose Company and U.S. Coupling, respectively. Additionally, we had our VR experience ready to show off a TTR 20 inside our virtual display room. One attendee who experienced the VR product tour stated that the VR experience is "really cool. It's like Puck is developing right alongside technological advances. It's all so different from when I first started working with Puck in 2002."
The Puck team also brought our unique die-cast toys, which are 1:64 scale models of our real equipment. Some of the toys included a hose cart, the WH 5780, a force feed with boom, and a toolbar injector. These toys displayed to attendees how Puck Enterprise equipment can improve liquid manure application operation efficiency. Many children were impressed with the display and enjoyed recreating the operation their parents work in real life. However, kids weren't the only ones impressed with the toys. One attendee commented that she will have to buy the entire display for her grandchildren, as well as her grown children. Another said, "I had a hard time picturing what your equipment did, but this explains it all perfectly."
As a family-owned company operating in the same small town we got our start in more than 40 years ago, Puck thrives on the opportunity to speak with pork producers and agricultural professionals on every scale. We thank everyone who stopped by our booth to chat and learn more about our industry-leading equipment. We hope to see you at the next trade show!
If you would like to learn more, call us at (712) 655-9200.