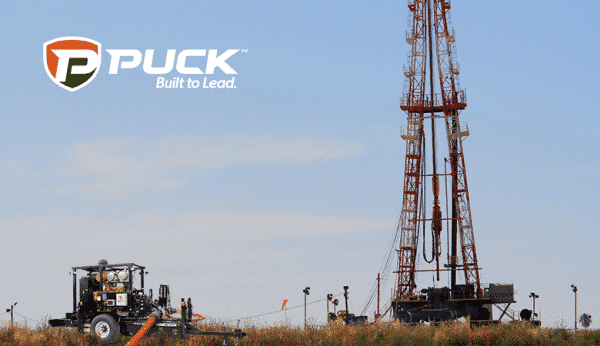 September 29, 2022
Fluid Management? Puck Enterprises Answers the Call for Oil & Natural Gas!
When it comes to fluid management at a well drilling and shale hydraulic fracturing site, look to Puck Enterprises for an integrated system to serve your specific needs. Proven with four decades of reliable performance in the toughest environments, Puck moves liquids – from water to slurries – with everything from trailer-mounted booster pumps to highly mobile (including rough terrain) hose reel carts or trailers.
From a fluid pumping perspective, start with Puck's Warthog Booster Pump series. With an abundant selection of engine horsepower and associated pump flow configurations, these trailer-mounted pumps allow you to achieve the high flow capabilities that you require to get the job done both effectively and efficiently. Puck can tailor the engine and pump combination best suited for any operation's site or application. 
The Warthog Booster Pump is packaged with Puck's revolutionary LightSpeed™ remote monitoring and control technology to minimize personnel requirements yet enable complete confidence in managing a fleet of field assets. LightSpeed™ is standard on all Puck pumping solutions so that they can be protected and monitored by the watchful eyes of this powerful technology platform.
For ready deployment (and recovery) of large-diameter lay-flat hose, Puck's HC and TTR series of Hose Reel make the task at hand a lot simpler. Offered in multiple configurations to suit specific hose carrying capacities as well as mobility challenges, there is an optimized Puck hose reel system to meet a variety of applications or needs. 
Engineered and built to perform in extreme conditions, whether towed by a 3/4-ton pick-up or a larger vehicle, Puck's Hose Reel Cart family is varied to meet unique requirements. All Puck equipment is 100% manufactured at their Manning, Iowa headquarters with an expansive campus to satisfy delivery requirements for multiple clients.
Of course, a complete system to move fluids includes the required lay-flat hose, specialized couplings, and custom manifold hardware as well. Puck does that too! With the BullDog Hose Company division based in Angier, North Carolina, heavy-duty large flow capacity hose with a proven track record is 100% manufactured in the USA. Made to not only perform but survive, BullDog's Mainline hose is optimal for moving massive volumes of liquid for miles in the most demanding circumstances. 
To bring it all together, based in Dothan, Alabama, U.S. Coupling (a product of Puck Enterprises) has all the specialized large diameter hose couplings you need. Plus, the US Coupling capabilities include customized heavy-duty manifolds that allow you to execute your required hose and pumping set-up for a given job.
To learn more, schedule a personal visits to any of the Puck manufacturing locations, visit www.puck.com or call us today at 833-655-9200 to speak with a member of the Puck team.