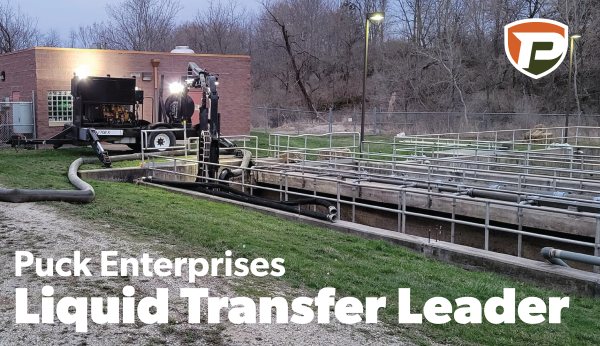 October 4, 2022
Water or Slurry Everywhere or Anywhere? Puck Can Move It!
When it comes to municipal water, slurry and wastewater infrastructure support, Puck Enterprises has an entire portfolio of products optimized to move liquids efficiently and effectively.
Water or slurry? Puck can move it!
Whether it is for emergency response with floods or high-water storm events; scheduled maintenance or service at treatment plants and lagoons; dewatering at construction sites; waterway dredging; or even movement of potable drinking water; Puck Enterprises is your single source manufacturer for heavy-duty and high-performance equipment as well as accessories to get the job done.
With all equipment manufactured at our Manning, Iowa headquarters, at the heart of the product line is our high flow dependable pumping equipment. These can be trailer-mounted for versatility and practicality or commercial chassis (Freightliner, International, Peterbilt, Kenworth, Mack, Western Star, etc.) mounted for mobile immediate response and flexible positioning at a site.
In terms of trailer-mounted, Puck's Warthog Booster Pumps and Force Feed Lead Pumps are serious tools for a municipality's or private contractor's line-up. Our Warthog Booster Pumps are the most rugged, top-performing pump units on the market. They have a variety of engine horsepower and pump flow combinations to meet the specific requirements of a given pumping operation. Combining these units with our Puck LightSpeed™ technology controls allows you to manage the pumps remotely with limited staff or personnel.
Lead Pumps for water and slurry
The trailer-mounted Puck Force Feed Lead Pump is ideal for liquid transfer applications with lagoons, deep underground pits, or above ground storage tanks. The remote-controlled hydraulic boom of the Force Feed Lead Pump allows it to access liquid storage up to 13 feet deep. Three knuckle points with the boom device provide easy setup and increased maneuverability, delivering optimized performance for any given site location and situation.
For the ultimate in mobility and performance, the Puck Boom Truck (with your choice of commercial chassis brand) is the best path to take. Leveraging four decades of expertise with high-flow pumping in the most demanding environments, the Puck Boom Truck is the fleet pinnacle resource for ideal liquid transfer in multiple applications.
Of course, with the wide variety of Puck pumping assets at hand, one still needs other equipment and accessories to move water, wastewater, slurry, sludge, etc. Look no further than the multiple products that Puck brings to the field. In terms of a mobile "pipeline" that is rapidly deployable and quickly scales, BullDog Hose Company, a Puck Enterprises business unit, has durable, large diameter lay-flat hose that gets the job done with wastewater (WAT-Hog™ as well as Mainline hose) and even potable water (with NSF61-certified Aqua Guard™ hose).
Hoses at U.S. Coupling
These hoses are widely available with specialized couplings and customized manifolds from U.S. Coupling (another Puck Enterprises business unit). BullDog Hose and U.S. Coupling products are 100% American made and manufactured at Angier, North Carolina and Dothan, Alabama operations respectively.
To deploy multiple lengths of large diameter lay-flat hose, Puck Enterprises offers a family of mobile Hose Reel Carts that are engineered for the toughest challenges and can be easily moved by a conventional ¾ ton pick-up. For the highest capacity reels and off-road capabilities, certain Puck Hose Cart configurations can be moved with a tractor or larger truck. Ultimately, there is a scalable answer for the specific needs of a city, county, and/or private contractor.
For more information on the products to solve your daily water management needs in any city or county, call 712-655-9200 to speak with a member of the Puck sales team.