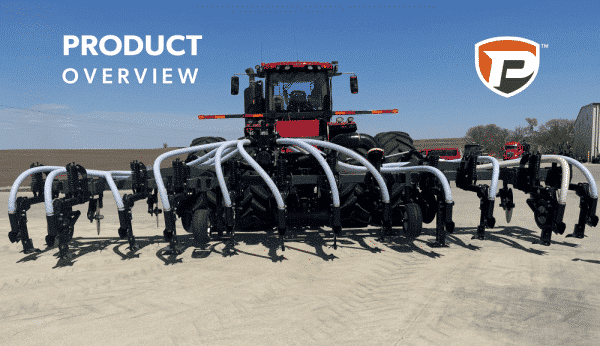 May 30, 2023
Dietrich 70 Series Product Overview
Inspired by our experience in the field, Puck drag hose applicators add efficacy and efficiency to any manure injection operation. With increased width for increased flow, efficient manure application starts with Puck toolbars. We offer a variety of toolbars in the manure industry with varying application rates, from finishing bar manure to dairy. Depending on what kind of tillage you're comfortable with, Puck toolbars will disturb and distribute more manure down into the furrow.
Among the lineup of Puck toolbars is the Dietrich 70 Series Toolbar, which can get you up to 20,000 gallons per acre. This toolbar has row spacing from 24 inches to 32 inches. It is composed of Series 70 Dietrich shanks with eight inch sweeps. Puck's toolbars are built for your operation. They are adaptable to 4WD or front wheel assist tractors, and made to fit your choice of row units. The 70 Series is rigid on the three-point of a tractor.
Puck manure application toolbars are equipped with Krohne Flow Meter with LightSpeed monitoring and analytic reporting. Operating parameters from the operation site are all transmitted through LightSpeed, so you can ensure everything is working correctly — no matter where you are. With LightSpeed, you are able to use whatever cellular carrier, plan or device you want.
Toolbar Standards
As is standard with all Puck toolbars, the 70 Series has a mechanical distributor with an orbital motor. This spins around to kick the trash around one more time with some cutting action to make sure you have even flow throughout the two and a half inch tubes. Cam locks allow for easy removal of any trash that would get stuck in the distributor. The hydraulic gate can be opened or closed from the tractor cab for clean out.
All Puck manure injector toolbars come with PCE splash plates on the end of each tube. These help guide the manure down into the furrow that the Dietrich sweep has created. Any trash that comes through the tube can be flushed out the back, as well. Another standard among our toolbars is the Z pipes, which are compatible with Puck's four wheel drive mounted swingarm setup. This swingarm can be put on a 4WD tractor with articulating in the center. This transfers all the weight and pull onto the tractor for easier maneuverability. The adaptable widths and folding bars make road transportation and storage with the Dietrich 70 Series Toolbar easy and convenient.
Whether you're looking for something to go on a 4WD tractor or you want something with a front wheel assist, Puck has a toolbar for your specific liquid transfer operation needs. For more information on the Dietrich 70 Series Toolbar, check out the product flyer or product overview video. You can also contact a member of our sales team to learn how Puck toolbars can assist your operation.