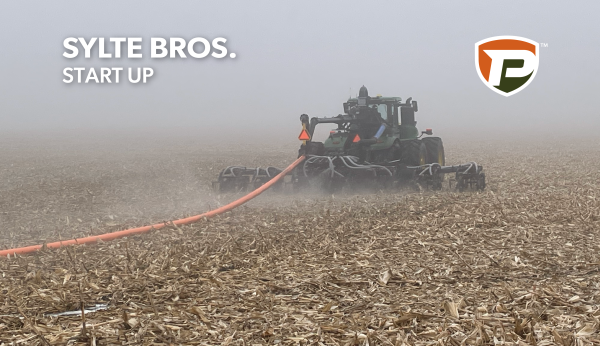 November 14, 2023
Sylte Bros., Custom Manure Application Start Up
Based out of Roscoe, South Dakota, Sylte Bros run a custom manure application company across the plains of Northern SD. Sylte Bros bought a finishing line from Puck Enterprises back in July 2022 to pump manure from a swine facility onto the ground. At the time, they bought three booster pumps, two miles of hose, a large hose cart, a toolbar, and a corresponding swingarm. In their first Fall season, they were able to comfortably get done what was needed.
Their sales representative, Doug Greving, was able to be on site with the Sylte Bros team recently to help out. Doug got the crew and new line up and running for the 2023 Fall season with little to no training. In just one day, the Sylte Bros were able to pump their first two million gallons. Despite corn residue in the line, the crew was able to hit their application rate goals without bunching up.
Utilizing a 35 ft Torsion Flex Toolbar with 30 inch spacings, the Sylte Bros applied 8,000 gallons to an acre. To achieve this rate, they ran the tractor at about 5.2 - 5.5 mph. If we use the 495 Rule taught to us in Puck's Pump School, we can estimate that they were applying about 3,111 gallons per minute.
Congratulations to the Sylte Bros for a successful first pumping season as a custom manure application company!
If you would like to learn more about the equipment used, contact a sales rep or call (712) 655-9200. For more information on calibrating your liquid manure operation, check out our upcoming Pump School dates.