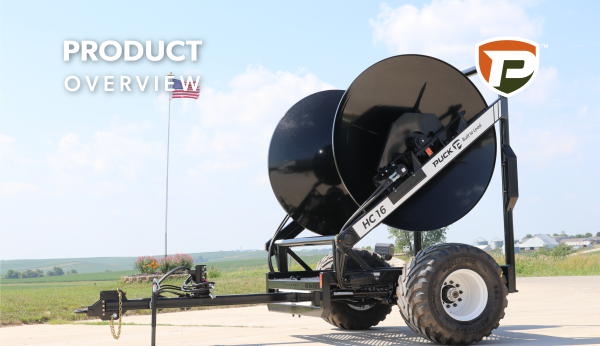 November 21, 2023
HC 16 Hose Cart Product Overview
Any operation using large diameter hoses needs a way to quickly deploy and retrieve that hose. Puck Hose Carts can roll hose onto the cart in a way that prevents damage and extends hose life. The HC 16 hose cart, one of Puck's most popular products, can hold up to two miles of 6 inch hose or a mile of 8 inch hose.
The HC 16 has dual hydraulic pull motors with added torque. This allows you to pull the heavier 8" and 10" hose with ease. The 12 foot long swivel tongue moves to level wind the hose back and forth on the hose cart for even distribution. The patented Arch Guard prevents hose from spilling over the reel, leading to less hose damage and the corresponding maintenance. Paired with the arch guard are the signature domed reel ends. These ends are smooth and protect the hose from rolling, kinking, or twisting.
On the back of the hose cart, there are LED lights on each side for safety in the dark. Additionally, the HC 16 has DOT compliant lighting in the back for safety during transport. The heavy-duty axle has leaf-spring suspension, as well as 710 flotation tires. These features take the jolt out of rough terrain, keeping you — and your operation — moving.
When connected to a tractor or heavy-duty truck, the HC 16 allows for full control from inside the cab. Designed for single-person operation, this large-diameter hose cart can improve operation efficiency. It helps to decrease downtime so you can cover more territory. Between the high carrying capacity, the robust build, and the simple in-cab operation, the HC 16 is one of the easiest hose carts on the market to operate. 
If you would like to learn more about Puck Hose Carts, contact us online or call us directly at (712) 655-9200.