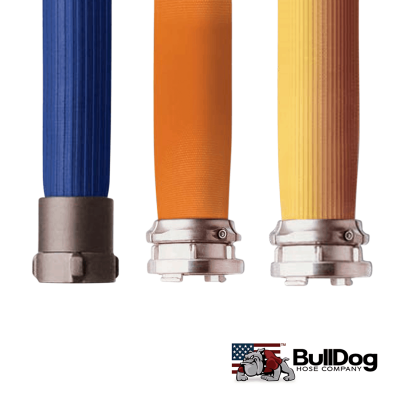 May 12, 2020
Choosing The Right Fire Hose Jacket: A Hose Design Overview
Hose design has evolved a long way from the cotton-woven hoses of the past. Today, fire departments utilize a wide range of modern hose jacket designs made out of high-tech material. The most common fire hose jacket designs are single-, double-, and synthetic-jackets. While each jacket gives the hose strength, their different constructions handle varying pressure ratings. Knowing the distinctions between these types of hose jackets is important for identifying which ones are suited best for your department or operation. The BullDog Hose team will highlight the construction and applications of each jacket design in the following article.
Single-Jacket
The construction of a single-jacket hose consists of one outer jacket that is commonly woven with polyester yarn and an inner liner that is made out of some rubber compound. The purpose of the jacket is to give the inner liner strength to hold the fluid pressure while still being lightweight. Without a jacket, the rubber tube would be very prone to bursting from the fast-moving fluid. This type of jacket construction is best used for hosing down equipment, standpipe systems (hose cabinets), forest fires, and other applications that require more maneuverability.
BullDog Hose has a variety of lightweight and durable single-jacket hoses. The Bushmaster™ is specially designed to be more controllable when taking on forest and brush fires. Rackhose™ and Single Jacket™ are made for general industrial uses.
Double-Jacket
Double-jacket fire hoses are more resistant to the elements than single-jacket lines, as they have that extra jacketed layer of polyester. These types of hoses are commonly made from both staple and filament polyester, woven in both warp and weft direction. Double-jacket lines can operate at much higher water pressures than those with only one jacket. For this reason, double-jacket lines are preferred for attacking fires.
BullDog Hose's double-jacket fire hoses include Hi-Combat II, Firepower II™, Ultima™, and Fireguard™. Hi-Combat II is a uniquely designed double-jacketed hose, with a specially weaved high-tech nylon-polyester outer jacket that encases an inner lining consisting of a one-piece, extruded-through-the-weave hose for optimum performance and reliability.
Synthetic-Jacket
Rubber covered fire hoses are commonly manufactured from synthetic nitrile rubber and are resistant to fuels, chemicals, oils, environmental pollutants, mold, mildew, extreme temperatures, and other abrasive substances. These types of lines are used in situations where durability is needed, such as fires where chemicals are present in the area.
BullDog manufactures a wide variety of synthetic-jacket hoses. The ones most commonly used in fire fighting are Yellow/Red Chief, Redskin/Blueskin®, HI-Power®, Hi-Vol® supply hose, and Hi-Vol TPU™ supply hose.
View our full inventory of firehoses or contact a sales team member today to learn more.