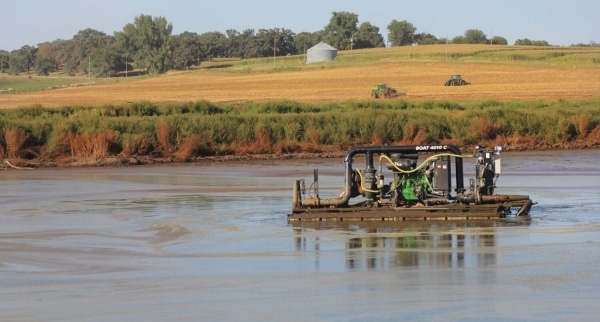 March 27, 2014
Puck Boat Scores Points With Neighbors' Noses
Puck Boat Scores Points With Neighbors' Noses
Odor stays below the surface - Keeping slurry agitated is a blast
By Ron Lyseng, Winnipeg Bureau, The Western Producer
Brandon - A Manitoba company opted for simplicity when it added a new line of manure boats to its sales catalog.
"They have the least number of moving parts. That means less downtime," Paul Bell of Redland Triangle Welding & Machining in Boissevain said about Puck Enterprises' agitation boats, for which it is the western Canadian distributor.
"The wings are hinged so you can hydraulically pull them up for transport and washing. Very easy to clean."
The Cornell Cutter Pump he uses chops up the straw, weeds and anything else that gets pulled into the intake. It's chewing all the while it's agitating, so there's less plugging.
Manure boats uniformly mix the nutrients in a liquid slurry lagoon so that the value of the product is maintained.
Without agitation, every few gallons will have a different chemical analysis, making it difficult to use as a fertilizer. In the worst case scenario, the slurry will become difficult to pump out of the lagoon into tankers or through the dragline.
Keeping the slurry turned is one of the more unpleasant jobs on a livestock farm.
Puck boats are driven by a remote control module that covers starting, stopping, steering and opening and closing of the three gates. The outflow nozzles are used to agitate and steer the boat.
"The operator can turn the guns off at the front or rear to back it up or go forward. That way he can back it up to the lagoon loading ramp without causing any shoreline erosion," Bell said.
"For a concrete lagoon or lined lagoon, the owner builds a ladder. The boats have skids built in underneath so they can slide up and down to get in and out."
Some livestock operations use sand for bedding material, but the downside is that the sand eventually builds up and forms an island in the center of the lagoon, which many boats cannot penetrate.
"A lot of those big dairies in Wisconsin use sand.  The Puck boats have been working very well on those islands.  The operator drives up to the island and blasts away," Bell said.
"We're pushing down with the power and forcing the particles up into suspension in the slurry. So if you're doing a pump-out, we just keep the boat running to keep everything in suspension. We control the aggressiveness with the engine r.p.m. We don't get as much odor (as other boats) because we don't shoot the slurry up into the air. We shoot down into the slurry to keep the agitation below the surface."
Bell said the agitation boat can be ordered with an optional Krohne flow meter and MobileStar Control.
Three models are being brought into Western Canada: the 185 horsepower boat sells for $71,000 US, the 375 h.p. boat sells for $126,000 and the 600 h.p. boat sells for $150,000.