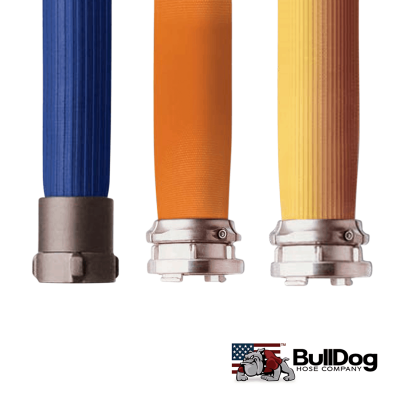 August 19, 2021
Certifications Are A Key Factor To Consider When Selecting A Fire Hose
Not all fire hoses are made the same. With the attack, supply, forestry, booster, and suction hoses, there is a long list of hoses with different capabilities. However, there is a big factor that one should consider no matter what hose they are looking to purchase, and that is product certification to back up quality, safety, and performance claims.
Before choosing a hose, departments should be aware of some critical certifications.
What Are Fire Hose Certifications?
Finding hoses that have not only met official standards but have gone above and beyond to obtain certifications from recognized third parties offer a greater sense of assurance that the hose can be relied upon during real-world situations. Aside from the NFPA's golden standards, you should be on the lookout for hoses that have received UL, ULC, FM, and NSF certifications.
UL/ULC Certifications
UL stands for Underwriters Laboratories, and ULC stands for Underwriters Laboratories of Canada. UL is one of the leading authorities on product testing in the US and one of the world's largest safety testing labs. As a global safety science company, they test countless products, including fire hoses.
UL audits, tests, and inspects fire hoses to the highest standards. A UL certification means that a company, such as BullDog Hose, complies with its benchmarks.
The following BullDog Hose products are UL listed:
ULC listed BullDog Hose products include:
Hi-Combat II (1-3/4″ and 2-1/2″)
Firepower II (1-3/4″ and 2-1/2″)
Ultima (1-1/2″, 1-3/4″, and 2-1/2″)
Hi-Vol (4″ and 5″)
Red/Yellow Chief (1-1/2″, 1-3/4″, and 2-1/2″)
Redskin/Blueskin (1-1/2″, 1-3/4″, and 2-1/2″)
Hi-Power (1-1/2″, 1-3/4″, and 2-1/2″)
FM Certifications
FM Global is an international property insurance and loss prevention engineering company. They have a dedicated product testing division, known as FM Approvals, that is known for its high standard of quality control procedures.
Products with the "FM APPROVED" marks are held in high regard for passing their stringent product testing. BullDog Hose has a handful of products that have an "FM APPROVED" certification. The BullDog hose products that are FM APPROVED include:
Rackhose (1-1/2")
Red Chief (1-1/2″ and 2-1/2″)
Redskin (1-1/2″ and 2-1/2″)
NSF Certifications
NSF International is a company that is interested in advancing public health standards for food, water, consumer products, and the environment. The NSF mark assures consumers, retailers, and regulators that certified products have been rigorously tested to comply with all standard requirements.
The NSF61 certification ensures that products meet regulatory standards throughout North America. BullDog Hose's Aqua Guard™ is the only American-made NSF61 certified potable water hose.
Ask For A Hose Test/Demonstration
Even with these certifications, the old adage of try before you buy is a key piece of the puzzle when considering buying a new hose.
Be sure to either reach out to the hose manufacturer or hose dealer to see if you can either test out a full length of hose or request a demonstration to see it in action. By seeing its functionality in person, you can ensure that the hose meets your department's standards.
For more information on BullDog's hoses, contact a member of the sales team or request a demonstration today.