May 11, 2017
Agitation Trailers – Results from the Field
PCE Agitation Trailer - Results from the Field
By Nancy Trapolino
November 2017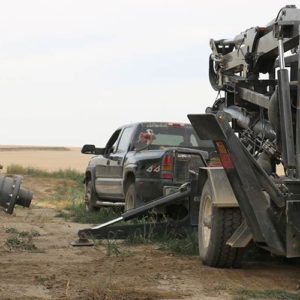 "My pit's not empty," is perhaps the worse call a custom applicator can receive.
So, how can we do a better job? How can we empty the barn?
"When we look at the array of building types out there, they have various needs for agitation. There hasn't been a one-size fits-all solution, but that's what a custom applicator needs. That's what we've been working on," states Ben Puck.
"These barns can have sectioned walls, or be completely open, or have limited access points with transfer needs. Each barn situation is different. When we add in varying depths and sizes, it becomes harder to plan and mobilize the right equipment," continues Puck.
"When our crews show up at a barn, they get ready to pump, and once 2,000 gallons per minute or more is headed to the field, the liquid will leave real quick and in a hurry. So agitation is so imperative to the success of the clean-out. It has to be there and be working." finishes Puck.
Agitation Trailers are working.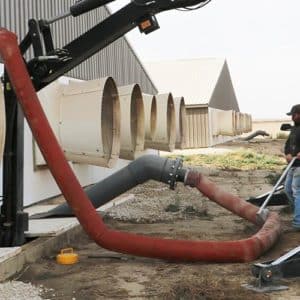 We showed up on-site with the PCE Crew running the new Agitation Trailer featuring a Cornell submersible.
"We've been getting the pits down to 6"-8" with the new Cornell," comments Jacob Dreier to Ben Puck, "They are doing great. This new pump moves a lot of liquid, it keeps up with the supply line when we have to transfer."
We called another custom applicator, Harry Crouse, of Going Green LLC., who recently started using an Agitation Trailer with a Doda Super 150 (AGI-150):
"Ben, it's better than anything I've ever used before! We're getting the barns down to 8 inches. A couple sites that were taking us 4-5 days, we did in 2," said Crouse.
"This is what custom applicators should be looking at. I truly, truly believe that. The name of the game now, is yeah, we can pump quick. Now it's getting set up, getting it agitated quicker, and gettin' to the next barn. And the next barn after that, and the next barn after that. That's where this trailer kicks a**. Um, and I'm sorry for kicks a**, but it does," continued Crouse.
"And the thing about it is, that we were running 2,000 gallons per minute (to the field). We have half a chunk of hose out with the AGI running into the barn, and it's actually almost keeping up with what we were pulling out. It was probably putting in 1,000-1,500 gallons per minute, and that's pretty impressive with that little bitty motor and that DODA, and that DODA isn't even the biggest DODA you can put on," elaborates Crouse.
"We had it force feeding the SP mainline pump, down in Nebraska, and we were movin' 2,000 gallons per minute," finished Crouse before he had to get back to work.
What we're hearing from our crews, customers, and manure applicators:
1. PITS ARE EMPTY!
2. QUICK TO SET UP AND TEAR DOWN
3. KEEPS US MOVING TO THE NEXT BARN
4. FAST TRANSFER
5. EASY TO USE
6. FUEL EFFICIENT
7. SAMPLES ARE COMING BACK CONSISTENT
8. CUT OUR TIME REQUIREMENTS
9. EASY TO FORCE FEED WITH
10. KICKS A**
Model Specs:
PCE Agitation Trailer - Cornell 8NNWH Submersible Pump, John Deere 4.5 Liter Engine, Knuckle Boom with max 13 ft service depth