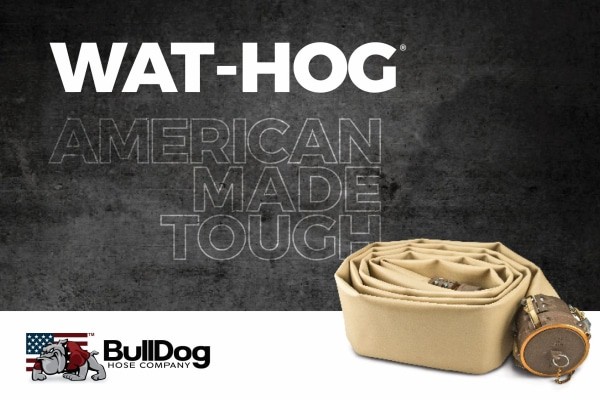 August 9, 2022
What's WAT-Hog™? Multi-Purpose, Multi-Function Lay-Flat Hose by BullDog
If there's a "swiss army knife" in lay-flat hose, it's the WAT-Hog™ product by BullDog Hose Company. With numerous vocational applications in municipal, marine, mining, military and more, WAT-Hog™ is the answer to many different needs. It's truly a multi-purpose utility hose that can move or transfer water, reclaimed water, wastewater, slurries, fuel, etc.
What is WAT-Hog?
Available in diameters ranging from 2-inch to 10-inch, WAT-Hog™ features a unique through-the-weave, one-piece construction comprising a circular woven high tenacity polyester reinforcement totally encapsulated in a tough elastomeric polyurethane cover and lining. As a result, this construction provides extreme durability with harsh surfaces or terrains as well as great flexibility and kink resistance.
Designed for long life and maintenance free service, WAT-Hog™ toughness allows exceptional resistance to abrasion and cutting for use in a wide variety of conditions. Furthermore, with no corrosion or scaling, WAT-Hog™ is resistant to chemicals, UV, ozone, weathering, hydrolysis, and microbiological attack. All this combined results in a lay-flat hose that can be put to work in many ways.
Of course, when moving liquids, what's important is fluid efficiency. This can translate to low operating costs! What really matters is that WAT-Hog™ has a low-pressure loss for efficient pumping. It is designed to expand up to 10% above the uncharged diameter at maximum operating pressure to enable more water or slurry to be pumped. When the WAT-Hog™ industrial hose is not in use, long-term storage in coiled configurations will have minimal impact on hose life.
Puck has WAT-Hog
In terms of additional logistical equipment and hardware, Puck Enterprises, the parent company of BullDog Hose, not only has a variety of couplings manufactured by its U.S. Coupling business unit in Dothan, Alabama, but also hose reel carts or trailers and booster pumps from Puck Equipment in Manning, Iowa. Of course, as with other products, BullDog Hose Company proudly manufactures all lay-flat hose at its Angier, North Carolina operation.
For more specific information on WAT-Hog™, contact a member of our sales team today and discover how this industrial hose can help your liquid transfer operation.