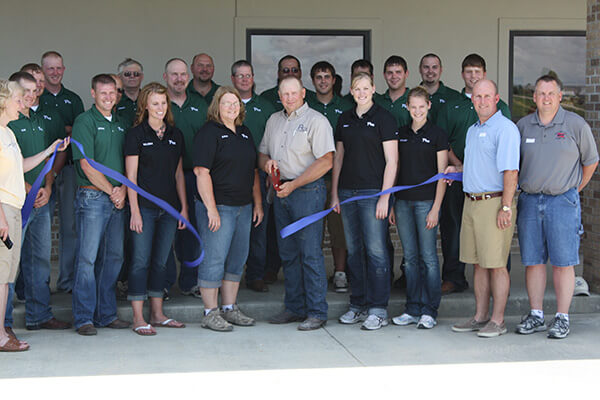 June 22, 2010
Rapid Growth Prompts Expansion at Puck Custom Enterprises
By Chantelle Hogrefe, Daily Times Herald
According to Ben Puck of Manning, if necessity is the mother of invention, then the need for efficiency must be the father.
Puck, who has incorporated an efficiency theory into a lifetime of agricultural pursuits has used it once again to become an industry leader in drag hose manure application. And he, his wife Kathy and their four children, Jeremy Nancy, Mary and Danny recently celebrated another chapter in the family business with the grand opening of a newly constructed facility for Puck Custom Enterprises (PCE).
Located three miles south of Manning right off of county road M66, this 15,000-square-foot building houses 1,100 square feet of shop with an additional 1,400 square feet on the second level, 2,400 square feet of warehouse and a 1,600-square-foot, two-story office. This new manufacturing space is an addition to the much smaller, 3,000 square feet original shop and 200-square-foot office that was the former base of operations. The original building will continue to be used for maintenance and repairs for the application portion of PCE.
The new shop/manufacturing facility and office was designed and constructed for the growth that PCE has seen since constructing its first piece of equipment in 2005 — equipment that was designed and constructed from Ben's years of experience in the manure business.
"But we haven't really come up with a genuine, perfect idea," said Ben. "You just have to be very, very patient, and sometimes these things will show up and you are able to discard a lot of the things that didn't work, and take the successful things and figure out why they would work."
This line of thinking was actually what got Ben into the manure-hauling business in 1979, when he saw a way to make the vacuum trucks better, more efficient.
That business grew to six vacuum trucks over the years, which were then replaced by honey wagons, tractors and then a TerraGator in the first year of operation as PCE in 1998. It was in 2004 that the move was made to a drag-hose system, and it was through using that system that the Pucks could see ways to make it better.
"I guess our biggest competitive advantage on the equipment side is that we are the only ones in the industry that are using the equipment and building the equipment," explained Jeremy. "Everybody else builds a piece of equipment and says, 'Go use it.' We have found a lot of success being able to explain exactly why you need this and how to use it and be able to answer their questions when they call."
Having grown to an application rate of approximately 180 million gallons of manure a season, with about 150 million fall applied and another 50 million in the spring, the Pucks have been able to use those acres to streamline the system. The first area they saw that needed to be bigger and stronger for added efficiency was in the hose carts used for the draghose system. Since the first hose cart was constructed in the fall of 2005, PCE has seen steady growth in sales and the innovation and growth of three more products to improve the system.
Sales of the now patented hose carts have grown from eight in the first year to PCE having 150 on the market in only its fifth year of manufacturing. PCE has also added pumps and pump trailers as well as application bars through collaborations with John Deere engines of Waterloo, Angus Hose of South Carolina and Cornell pumps of Oregon.
This, however, is just the beginning for Puck Custom Enterprises. The manure application business is, according to Ben, "a baby yet to walk" as it has expanded most in the past couple of decades.
"It is really not a waste product," said Jeremy. "It is a value-added product for farmers too because they are growing better corn with the manure than they might be with a commercial fertilizer. We are seeing a yield boost with the liquid manure."
And PCE has entered a market that is in need of innovative spirit at just the right time. Growth in the demand for manure application has translated into high demand for both the PCE services and product lines.
"It has grown so fast and we are only in year five of manufacturing," said Jeremy. It was about three years into the manufacturing portion of the business that the Pucks realized their space was going to be too much of a confining factor.
"It was about two years ago we began talking about a bigger shop just to house our own application equipment because our equipment keeps getting bigger," Jeremy said. "Our shop was too small to do repairs and maintenance. Then our sales grew so quickly that last summer we didn't get hardly any maintenance done on our equipment, and this winter we didn't get any maintenance done on our equipment. It (the new facility) hit just at the right time."
PCE began moving dirt on its new location last May and celebrated with its 16 fulltime employees and the entire community with an open house on Saturday, June 12.
And as the manure application industry grows, the Puck family will look to grow right along with it. Ben and Kathy are hands-on owners/operators of PCE, and have brought in the next generation of Pucks to see the business into the future.
Jeremy, Ben and Kathy's oldest child is the head of sales, inventory and takes a hand in the day-to-day operation of the business. Their daughter Nancy Puck works on the marketing through web and print publications. Their other daughter, Mary Puck, who graduated last year from the University of Iowa, assists Nancy with literature and marketing and also is working on bringing an on-line store to the marketing mix. Finally, youngest son Danny is going to be a junior at Iowa State, studying ag engineering and is looking forward to bringing those skills back into the family business after graduation. The generations working together provides PCE with both experience and fresh ideas.
Being able to bring technology into the mix, from the capability to monitor all of the application systems from any location through computerized linkage to developing remote operated flotation agitation systems for large lagoons is just part of what is making PCE an industry leader.
It also takes a love for agriculture and an eye toward future innovation to bring value to farmers.
"The benefit of a drag-hose system is that it is very efficient, you can get a lot done in a short amount of time," said Jeremy. "From pit to field we can do a 1,000 head barn in an afternoon. We can show up on your farm and be out in a day for most of our smaller customers. The advantage is efficiency."
And no matter how technology changes, PCE will continue to follow that business model, that efficiency model, established by Ben early on. "I like to say that we love technology, but technology is driven through efficiency," he said. "We are not a technology leader, we are an efficiency leader."