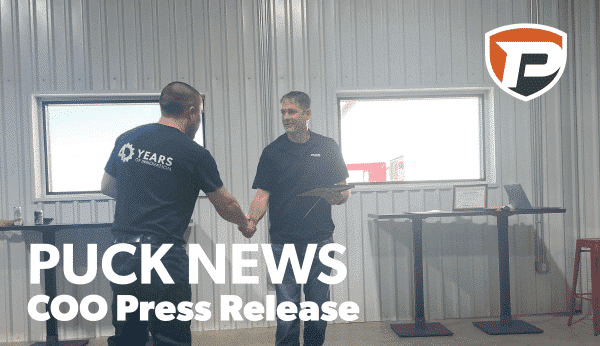 February 28, 2023
Puck Enterprises Welcomes New COO Eric Nelson
Manning, Iowa, February 2023: Puck Enterprises is pleased to announce the new hire of Chief Operations Officer (COO), Eric Nelson. Eric grew up on his family farm outside of Stanton, IA and currently resides in Madrid, IA with his wife of 19 years, Megan and their three children: Sander (14), Eli (11), and Madelyn (8).
Eric brings an extensive Operations and Leadership background to Puck from the Iowa Army National Guard. Currently, he serves as the Battalion Commander of the 248th Aviation Support Battalion located in Boone, IA and has previously served as the Commander of Army Aviation Support Facility #3 in Davenport, IA and as the Officer in Charge (OIC) of 671st Troop Command in Johnston, IA.
Eric's professional education background began at Iowa State University where he graduated in 2003 with a B.L.S. degree and a Minor in Military Science. Immediately after graduation he moved to Ft. Rucker, Alabama for U.S. Army Initial Rotary Wing Fight School graduating in 2005. In 2007 Eric graduated from Graceland University with a Master's Degree in Education and in 2015 graduated from U.S. ARMY Command and General Staff College with a degree in Military and Strategic Leadership/Operational Art
and Science.
Eric has been in the Iowa Army National Guard for over 21 years and has multiple experiences overseas and statewide. He has approximately 2,000 flight hours in the UH60 BlackHawk and LUH-72 Lakota Helicopters and has been in multiple leadership positions along the way. "The military has provided me an excellent leadership backbone and process design for current/future strategic operational planning that will be of benefit to Puck Enterprises," states Eric Nelson, "my biggest achievements I have had in the military are the relationships I have built and the teams I have been lucky to be a part of." As the COO, Nelson is charged with operationalizing the organization for impact, including developing approaches to implement efficient and effective processes to provide Puck's customers with a world-class product.
In Eric's free time he helps coach his son's athletic teams and is a big supporter of the Iowa State Cyclones and his children's 4-H activities. He looks forward to helping them show their 4-H pigs at the county and State Fair this year.
When asked what he is looking forward to at Puck, Eric states "I am looking forward to meeting the people behind the innovated solutions and products that Puck offers." Puck is excited to have Eric Nelson join our team and is looking forward to the ideas and other capabilities he brings to our company.
Sign up for our newsletter to stay up to date on the latest Puck product innovations, company news, Pump School classes, events, and more.