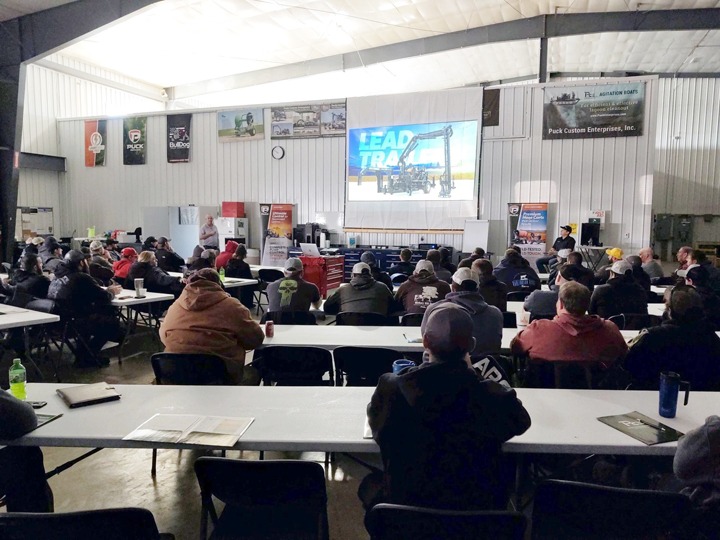 April 17, 2020
Puck Enterprises' Remote Pump School Events Hailed As A Success
Manning, IA (April 17, 2020) – For over 40 years, Puck Enterprises has been at the forefront of manure application and liquid transfer technology. In 2020, the company hosted two remote Pump School events in Iowa and New York. The classes provide customers with valuable insight and knowledge on Puck application equipment, dragline fundamentals, operations, and crew management. The company's industry experts have been hosting Puck Pump School sessions for the better part of a decade at the Puck Enterprises headquarters in Manning, Iowa.
Puck's remote Pump Schools have been very well attended and had exceptional turnout on the road this winter. On February 20th, the first remote session of the year was held at the company's satellite location in Farley, Iowa. Over 60 participants were looking to become more familiar with manure application best practices and Puck equipment. The event was well-received and served as a way for the company to expand the Pump School sessions outside of the Puck campus in Manning, Iowa.
The additional remote Pump School was held at Cuff Farm Services in the Empire State: New York. Cuff Farm Services is an authorized dealer of Puck Enterprises products and equipment. A record-breaking 88 applicators were present for the Pump School 101: Dragline Fundamentals and 201: Operations and Crew Management courses.
"It is very exciting for us as a company and as leaders in the industry to have this type of turnout at these satellite events," said Jeremy Puck, CEO and President of Puck Enterprises. "By ensuring applicators are armed with the right tools and knowledge for maximizing their operation, we can all–together–continue pushing the industry forward."
Puck Enterprises' Pump School focuses on a variety of core topics in manure application. From teaching about best processes and pump curves to safety features and much more, the Puck team has decades of experience and insight that customers can incorporate as a part of their operations. Along with group classes, Puck can organize a one-on-one Pump School course that will meet the needs of an individual applicator.
Those interested in learning more about Puck Enterprises or finding out when the next Pump School is in session, are encouraged to check out the upcoming events calendar.