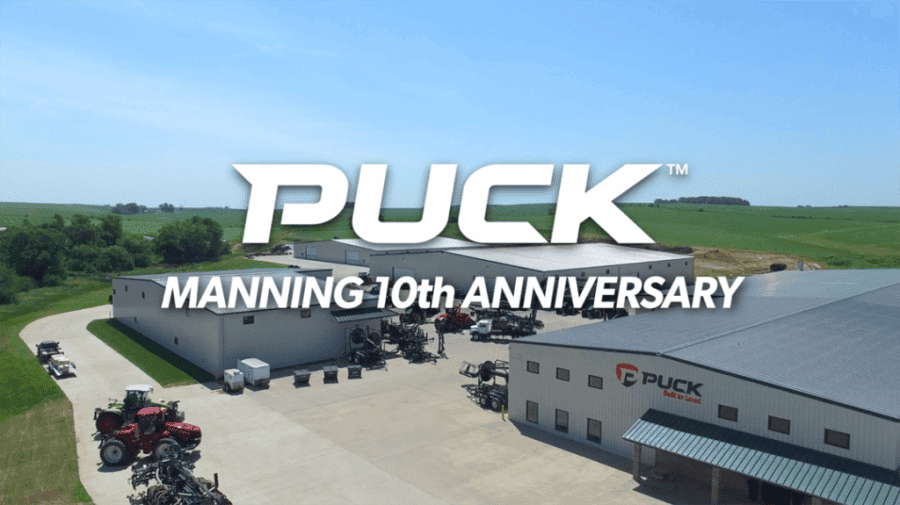 April 25, 2019
Puck Enterprises Celebrates 40 Years in Business
Manning, IA (April 25, 2019) - Puck Enterprises, a premier manufacturer of liquid transfer and manure application equipment, is celebrating 40 years since its founding. This anniversary comes at an exciting time for the Manning, Iowa-based company, coinciding with the launch of an updated brand and website, as well as a continued expansion into other industries.
Founded by the Puck family, Puck Enterprises began as a small manure application operation in rural southwest Iowa. A knack for problem solving and the desire for better application equipment eventually led the business to start manufacturing its own equipment, starting in 2005 with a hose cart designed to transport lay-flat hose. As word got around about Puck's manufacturing capabilities, this side of the business exploded, vaulting the company to a national and worldwide presence.
Puck has built a reputation for quality equipment and innovation, most notably manufacturing the world's first remote-controlled agitation boat in 2010, a product that became an industry standard. In recent years, Puck has increased its product offerings, created unique pump control technology, purchased a hose manufacturing company and expanded to include two additional locations in Dubuque, Iowa and Sioux Falls, South Dakota. Despite this massive growth, the company's main campus remains in its Manning, Iowa home. Puck has also retained its application business for local farmers.
"Everyone at Puck is proud to be a part of this team and to help our company continue to grow and innovate 40 years in," said Jeremy Puck, general manager of Puck Enterprises. "We all take pride in representing Manning and Iowa on a global stage, and we're looking forward to maintaining great customer service while also moving liquid delivery technology forward with exciting new ideas."
The company recently unveiled a rebranding initiative, which will allow Puck to better represent its core values and legacy as it enters new liquid transfer industries like municipalities, forestry, and oil and gas.
"We are incredibly grateful for the success that we have had over the past four decades, and we are fortunate to have the opportunity to develop and manufacture products that improve our customers' lives," said Ben Puck, president of Puck Enterprises. "We're excited about new opportunities that lie ahead, but remain dedicated to being good stewards of the land and making a positive impact locally."
More information about Puck's history, product offerings and new branding initiative can be found on the company's new website, www.puck.com.