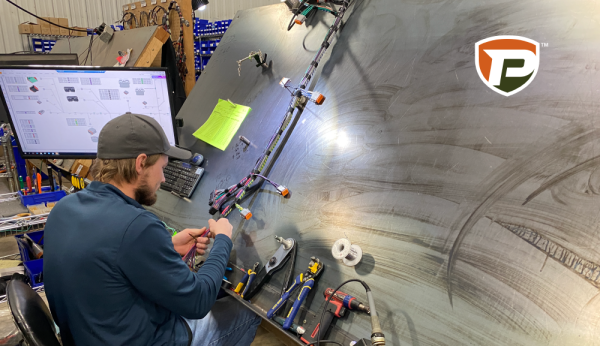 March 7, 2019
Puck Enterprises Adds New Equipment to South Dakota Facility
Worthing, SD (March 7, 2019) - Puck Enterprises, a premier manufacturer of liquid delivery and manure application equipment, recently added two new pieces of production machinery to the company's Worthing, South Dakota location. The new wire braiding and wire cutting machines will improve manufacturing capabilities at Puck's South Dakota facility. Recent machinery and workforce additions can be attributed to an increase in demand for Puck products in the Upper Midwest.
Precision wire cutting is important for keeping the quality of Puck's equipment at a high standard of reliability. This machine is fully automated. Wires of different lengths can be rapidly cut and prepared for assembly in Puck products. The machine processes wires that are included in various components of Puck's LightSpeed control panel assembly. LightSpeed is an industry leading pump control system. Pump operators can control and monitor their entire operation anywhere in real-time with their mobile devices.
A protective coating is added to critical electrical wiring as it goes through the new wire braider, which is a variation of the Cobra Braiding Machine. The equipment is specifically designed to braid wiring harnesses or cable assemblies. Operators of this machine are able to quickly and easily apply a protective cover to different lengths of wire.
"It is very exciting to enhance our production capabilities," said Jeremy Puck, General Manager of Puck Enterprises. "We are confident that the new machines will help increase productivity and allow us to get our products out to customers at a much faster pace."
Puck Enterprises opened up the location in Worthing, South Dakota in 2016; located near the intersection of South Dakota, Iowa, and Nebraska. Customers in the area have better access to Puck equipment and after-hours parts and services needs.
Find out more about Puck Enterprises and keep up with the latest news by subscribing to our newsletter.