March 1, 2023
Puck Debuts New Virtual Reality Experience
If you walked by the Puck Enterprises booth at Iowa Pork Congress, you probably saw some action! Puck debuted their new virtual reality experience through a virtual reality headset at the Iowa Pork Congress. The virtual experience features Puck's TTR 20. Viewers wore the VR headset and viewed all angles and parts of the hose reel through the virtual reality experience.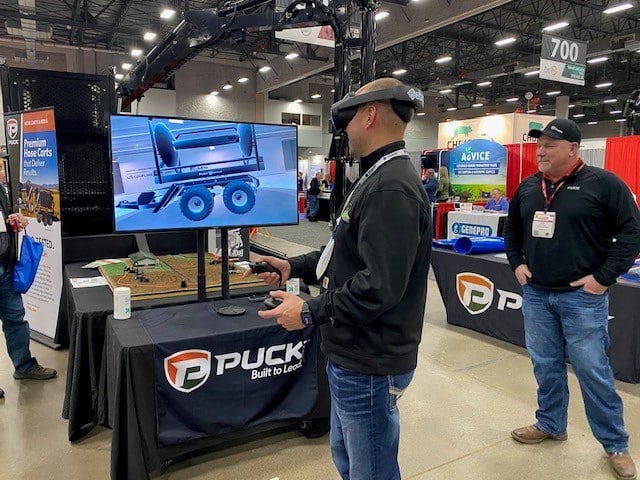 During the show, the Puck team had the headset casting on a TV in their booth. With the TV, other attendees were able to experience what the headset wearer was viewing during their virtual reality experience. Cassie McGraw, Marketing Specialist at Puck Enterprises, stated that the attendees of the event seemed very drawn to the VR experience and were willing to give the activity a try. "While I was at the show on the last day, I watched one family spend 25 minutes trying out the headset," McGraw stated.

Puck worked with Zirous, a tech firm in Des Moines, IA, to create the VR experience. Zirous staff attended the Puck booth at the Iowa Pork Congress to help attendees enjoy the experience. Puck is adding more pieces of equipment to the VR experience to take to future trade shows.

People who tried out the VR experience were impressed with how great the life-sized equipment looked. Many attendees, of all ages, found the experience to be fun and exciting. Attendees squatted to look under the equipment, turned around to see different sides and angles, and even reached out to try to grab bolts on the TTR 20 while in the virtual show room.

McGraw stated that the virtual reality at the tradeshow went over really well. "It was an innovative way for attendees to view the equipment Puck has to offer, while providing a fun and interactive activity for trade show goers."

For more information on Puck equipment, call 712-655-9200.