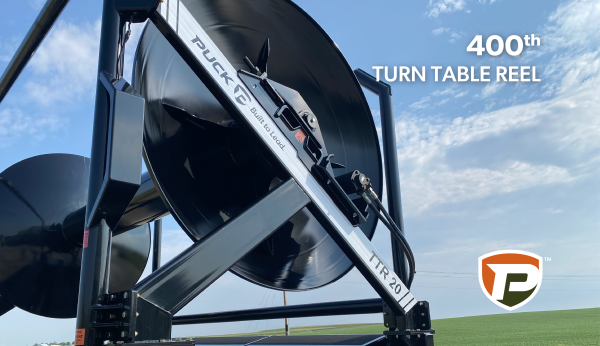 August 29, 2023
Puck Builds 400th TTR 20
Puck Enterprises has reached a milestone with our flagship product, the TTR 20. We have recently completed the 400th turn table reel for C&D. As we strive for innovation, the TTR 20 has advanced through the years to improve upon its features to continue the reputation of durability, reliability, and value our customers know and trust. Part of that innovation is the increased hose capacity for thicker TPU hoses that was updated in 2023. Furthermore, the hydraulic tongue jack and modular components are additions that make the best better.
Puck's TTR 20 has a carrying capacity of up to 2 miles of 8" hose and 1 1/2 miles of 10" hose. The patented Puck arch guard and domed reel ends allow for safe placement as operators roll and unroll the cart. The TTR 20 has a turning capability of up to 120 degrees and sits on a tandem axle with 710 tires. Additionally, the rear LED lights help illuminate behind the cart when loading hose where the tractor lights cannot reach. The upgraded turn table reel also features wide side steps and fenders, as well as integrated rear steps.
Innovation is what drives Puck Enterprises to continue to set the standards of performance. We look forward to continuing to provide excellent products and service as we look to the next 400 turn table reels! Talk to one of our sales team members if you would like to know more about the TTR 20. You can also call us directly to learn more at (712) 655-9200.