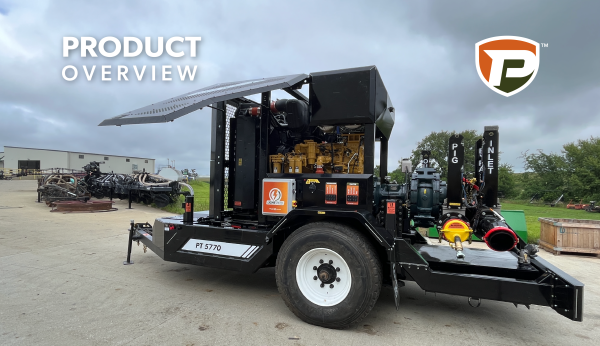 September 19, 2023
PT 5770 Product Overview
Puck Booster Pumps are high-flow, high-efficiency units that are capable of pumping more gallons of liquid manure per gallon of diesel fuel consumed. As the most robust and durable pumps on the market, Puck's Booster Pumps are available in a variety of horsepower and pump configurations. Among those pump units is the PT 5770, a single axle pump trailer.
Features of the PT 5770 MK2
Recently redesigned, Puck's PT 5770 MK2 features a 577 hp C13B engine paired with a Cornell 6819MPC pump. With three built-in fuel tanks, the PT 5770 can hold 375 gallons of fuel for maximum run time. The redesign of the PT 5770 brings a more compact trailer chassis. The chassis is just 9'6" long, 21'6" high and 8'6" wide for easy maneuverability and transport.
Contributing to the updated look, Puck's Pump Trailer 5770 has an engine enclosure that protects valuable engine components from the harsh operating environment. The engine enclosure also includes service doors that open vertically to allow access to common service items on the C13B engine. LED work lights on the doors illuminate these items. Additionally, the chassis incorporates LED lights that illuminate the ground around the trailer, providing a clear vision of hoses and items around the trailer. Manure application operations don't run on a 9-5 day, and these work lights allow for long working hours after the sun sets.
The PT 5770 MK2 comes with electric/hydraulic control of gate valves, down riggers, and jackstand allowing you to operate these functions without a running engine. These features on the pump trailer allows operators to easily set up the trailer or hook to the tow vehicle, as well as pig the line without wasting fuel.
Standard Puck Pumps Features
As a standard on all Puck pumps, the PT 5770 is equipped with the LightSpeed™ control panel. LightSpeed has unmatched machine control and operational adjustments from any device. LightSpeed software gives operators the opportunity for higher flow rates across greater distances, as well as increased equipment safety. The 5770 Pump Trailer is designed to keep the job moving and maximize your manure application operation efficiency.
For more information on the capabilities of the PT 5770, check out the product flyer. Contact a member of our sales team to find out how a Puck Booster Pump can help your operation.