Fire Hose
We make a variety of lay-flat attack hoses and supply fire hose to equip your department. United States and Canadian fire departments of all sizes rely on our durable American-made fire hoses for premium firefighting performance.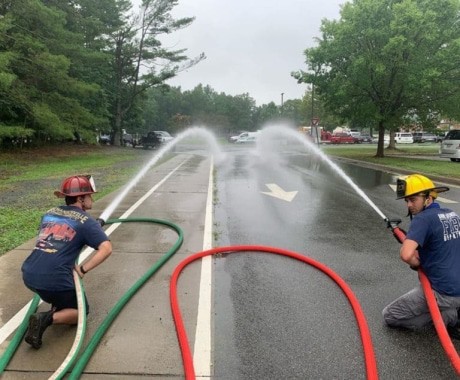 Heavy Duty Attack Hose
BullDog's exclusive heavy-rib outer cover combines with a unique nitrile-PVC rubber, through-the-weave construction to provide the backbone of excellent hose performance in Red Chief® and Yellow Chief®. The heavy-rib construction protects your water supply with a high resistance to cuts, punctures and abrasion. Compact and kink resistant, lightweight and easily maneuverable, Red Chief and Yellow Chief are ideally suited to meet the specifications and tough demands of most municipal fire departments. With a proof pressure of 600 PSI (4200 kPa) and a tolerance for heat and cold, these hoses maintain peak performance in any season or environment, withstanding temperatures from -36º F to 158º F (-37º C to 70º C).
Double-Jacketed Attack Fire Hose
Firepower II™ is a highly durable double-jacketed hose made from a high-tech, nylon–polyester outer jacket. Its toughness and flow rate in harsh environments make it an invaluable firefighting tool. This product has excellent packing capabilities for a double-jacket hose and improves hose-handling applications with an easy-to-grip material.