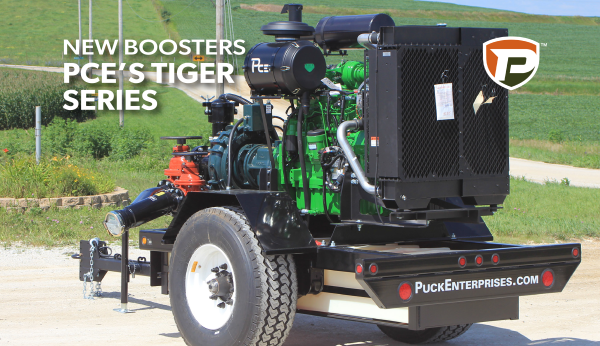 September 23, 2016
New Boosters – PCE's Tiger Series
New Boosters - PCE's Tiger Series
By Nancy Trapolino
November 2016
It's a big CAT - Booster Pumps with 765 Horsepower.
We know what you're thinking, "765 horsepower to pump manure?"
Yes! And here's why:
"Just get my pit empty," says the animal producer.
"Please take care of my field," says the farmer.
"How can I get this done faster?" says the manure applicator.
"Please do this safely, and don't pollute our air and water," says everyone.
Big agriculture requires big equipment. Liquid manure is the largest volume, largest amount of weight, and most volatile substance any farm manages. To handle it safely and effectively, it requires properly sized equipment, training and management.
Is a GREAT DAY 2 million gallons? Imagine 3,000,000 gallons...
Time is everything. With the right tools and technology, higher flows allow everyone involved to get what they want.
Decreasing the time required to do the job means we can be more choosy about when and how, rather than working through the worst weather and still not getting the job done.
We can handle the flow rates safely with our Guardian and LightSpeed systems, and precisely map the nutrient placement in the field.
So, we continue to push the capabilities of system flow rates.
CAT's 765 horsepower brings the extra power to operate larger Cornell pumps.
Larger Pumps Provide More FLOW:
Why More with the Tiger Series?
1) Time efficiency:
Working during favorable weather with favorable field conditions is a HUGE win. This is key to safely regaining capacity and protecting water quality.
The job gets done, restoring the farm's holding capacity
Weather and field conditions can be better managed to keep nutrients in the field
Less hours of operation means lowering fuel, labor and engine hours
2) Energy efficiency:
Large pumps move large volumes of liquid more efficiently. This is what they are engineered to do. Smaller pumps can sometimes meet the same flow rate, but not at the same level of energy efficiency.
More flow lowers fuel consumption per gallon of manure transferred
Pump efficiency improves fuel savings
When will we see 250,000 gallons per hour consistently? How will this change manure management for large dairies?
Don't forget, engine emission requirements are changing.
2018 machines will all require Tier 4 engines.