February 27, 2017
Guy Powell Award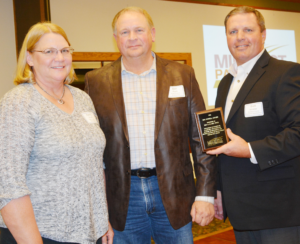 The Guy Powell Award recognizes excellence in leadership and passion for economic development in the Midwest Partnership Development Corporation region. It is awarded to superior leaders that strive to make our region a more economically vital place to live, work, and play. This year's recipients of the Guy Powell Award are Ben and Kathy Puck of Puck Custom Enterprises, Inc. located in Manning in Audubon County.
Ben & Kathy's business venture began in 1979 with the purchase of one vacuum truck to be used for manure application. That soon grew to six vacuum trucks, which were eventually replaced with larger tractors and honey wagons, and then a TerraGator. In 1998, PCE, Inc. was created as a formal entity and in 2004, Puck's moved from tank based applicators to a drag hose system. Always looking for ways to improve the process, they realized they could design a more efficient product for the marketplace and in 2005 they manufactured and sold the PCE Hose Cart, which was later patented. In 2010, they opened the doors on a new 15,000 square foot manufacturing facility and began producing a handful of unique products for dragline systems. There have been additional facility expansion projects since then, and plans are in the works for continued improvements. In the past six years, they've added 116,000 square feet to their manufacturing and warehouse space.
Today, PCE, Inc. operations include 24 unique products being sold throughout North America. They also have established projects in the UK, Russia, and Croatia and employ over 60 people, yet it remains a family owned and managed company. Ben and Kathy are still hands-on owners and operators, and their four children are all involved in the business: Jeremy is the head of sales and inventory operations, Nancy leads the marketing efforts with Mary's help, and Danny works in product development.
PCE has been a strong supporter of Audubon County Economic Development and continues to attract a great deal of business suppliers and customers to our area. They are a development minded business and encourage local growth. Puck Custom Enterprises exemplifies the true definition of the Guy Powell Award with their vision, leadership, courage, and impact, especially in Northern Audubon County. Please join me in congratulating Ben and Kathy Puck. Thank you for your commitment to economic development.
About the Guy Powell Award
Guy Powell, past president of Midwest Partnership EDC and active volunteer on the board of many other area organizations, was passionate about local and regional economic development. He was a strong believer in the region's potential. In recognition of his life-long dedication, commitment, and service, the Midwest Partnership Development Corporation created the Guy Powell Award, and has been presenting it annually since 2009.
Businesses and individuals who are members of Midwest Partnership EDC are encouraged to nominate individuals who stand out as outstanding leaders in this area of west central Iowa, particularly in the counties of Adair, Audubon, Greene and Guthrie, and who work to make it a more economically vital place to live, work, and play. Those submitting nominations should consider the vision, leadership, courage and impact of the nominee and include a recommendation letter describing those qualities or examples of his or her leadership.