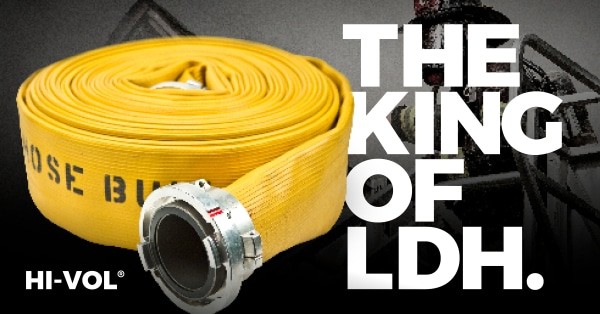 June 22, 2022
Fire Ground Supply Hose Isn't A Commodity – It's a Life Line
When considering new supply hose for your fire department, take a closer look at the material performance specification as well as test and field results from each supplier. Not all supply hose is created equal – far from it!
First, make sure the supply hose delivers what's most critical – superior efficiency and more gallons per minute (GPM) on the fire ground. With BullDog's Hi-Vol® Large Diameter Hose (LDH), a smooth inner liner reduces friction loss, and we all know that's mission critical for high flow performance. More specifically, the Hi-Vol® nylon/polyester blend jacket construction promotes a high working pressure rating and superior adhesion (jacket to rubber) as well as controlled swell, and low elongation for the improved water flow performance noted.
Recently, BullDog Hose has announced a higher service pressure rating for Hi-Vol® LDH. With this, fire departments now have a 250 PSI working pressure; a 500 PSI service pressure; and a 750 PSI burst pressure rating.
Next, and often taken for granted, be sure to evaluate the abrasion performance of your supply hose. When being deployed across asphalt, concrete, and/or hard ground with rocks or gravel, you know that it will be taking a beating. The last thing you need (or want) at the fire scene is compromised supply hose due to wear that you had not noticed or anticipated. For the best choice in this regard, BullDog's Hi-Vol® LDH is a premium extruded-through-the-weave nitrile rubber product. An extra tough high-tensile cover and lining that is permanently interlocked with the synthetic reinforcement provides greater abrasion and puncture resistance as well as unmatched kink resistance.
With the Hi-Vol® LDH proprietary rubber formulation, BullDog's supply hose was purposely developed for improved adhesion, industry leading abrasion resistance and even cold temperature (rated to -36 degrees Fahrenheit) flexibility. Formulated with a 70/30 nitrile rubber/PVC blend, Hi-Vol® has demonstrated an industry leading 20,000+ cycles for Taber® abrasion – that's tough and worth checking against other competitive products in the market.
Relevant to durability, you also want to be sure your supply hose can survive multiple environmental challenges that can impact the service life of the product. In this regard, Hi-Vol® LDH has you covered with significant resistance to oils, chemicals, UV, and ozone. These harsh realities can punish hose; however, Hi-Vol® can take the beating!
For the ultimate supply hose, closely examine Hi-Vol TPU™. In comparison to nitrile-rubber, thermoplastic polyurethane (TPU) is ultra-lightweight, more compact for packability, and highly resistant to kinking. The smooth finish of the TPU product allows for easier deployment and retrieval. Of course, it still has incredible durability with environmental exposures including UV and ozone resistance. As with conventional Hi-Vol®, the TPU has incredible abrasion performance in the field. Overall, Hi-Vol TPU™ simply takes supply hose to a whole new level!
When it comes to fire service large diameter supply hose, look no further than BullDog Hose. Manufactured in the USA at our Angier, North Carolina plant, Hi-Vol® LDH has a solid 30+ year track record in delivering incredible performance year after year. Don't settle for "good enough" or compromise a critical link in your system. Choose the best when it comes to your supply hose – that's Hi-Vol® by BullDog!
For more information, contact a member of our sales team today.