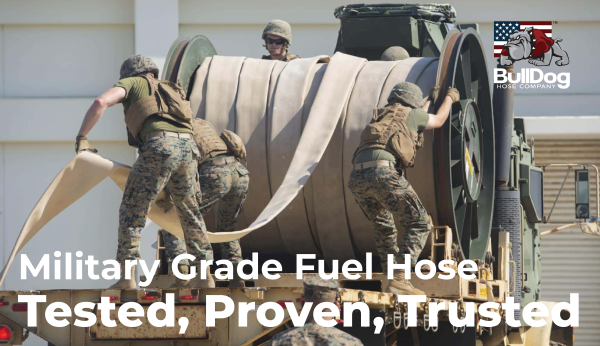 July 26, 2022
Tested, Proven, Trusted: BullDog Tough Military Grade Fuel Hose
In the heat of battle, the last thing a warfighter needs is a failure to resupply – be it with ammunition, food, water, and even fuel. Without the needed fuel to consistently resupply all mobile ground-based vehicle assets, as well as aircraft and ships, the battle may be very short-lived and a lot less successful.
Who needs a Military Grade Fuel Hose?
Given the high stakes, the military needs a reliable fuel hose that can handle the mission. BullDog Hose Company has the answer with their specialized and reliable military Fuel Hose that is entirely manufactured in Angier, North Carolina, USA.
Our Fuel Hose is a lay-flat, mil-spec, large-diameter fuel transfer hose designed to transport fuel in the most hostile conditions. Perfect for fluid delivery and meeting MIL-PRF-370 Type C, BullDog's Fuel Hose is trusted as the bulk fuel resupply hose for all military branches of service.
Featuring a specialized through-the-weave, one-piece construction, our Fuel Hose is made with a circular woven high-tenacity polyester reinforcement encapsulated in a tough elastomeric polyurethane cover and lining.
Designed for long-term use and maintenance-free service, BullDog's lay-flat military grade Fuel Hose has proven itself time and time again. In one of the harshest and most severe environments possible, this military-grade fluid delivery hose has been in service for over 25 years!
What goes into the Military Fuel Hose?
Manufactured 100% in the USA from premium materials, this fuel delivery hose also enables quick and efficient transport of potable water and other liquids. In military operations, this adaptable liquid transport functionality pays off and keeps training and battle operations flowing smoothly as needed.
Available in 2 to 6-inch diameters, the Fuel Hose long continuous lengths can be quickly deployed and retrieved using various systems, including power-driven reels, like those offered by Puck Enterprises in Manning, Iowa.
High flexibility and kink resistance allow natural ground contours to be followed without stress on the line and eliminates costly path-cutting work. Moreover, making the most of limited resources, fewer joints and faster connections translate to reduced labor and equipment costs.
In terms of efficiency, BullDog's Fuel Hose has low-pressure loss for optimal liquid flow characteristics and enables more fluid to be pumped. To ensure quality at every stage, a wide range of couplings, manifolds, and hardware from U.S. Coupling are available for connecting the hose to additional segments, fluid supplies, or additional hardware.
To learn more about this incredible lay-flat hose product for military applications, contact our sales team today and speak with a team member about your specific needs.