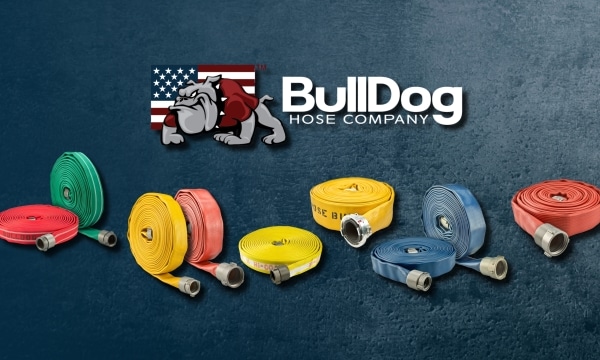 December 21, 2018
BullDog Hoses Offer Strength, Power and Customized Solutions
Firefighters, municipal organizations and industrial companies across North America turn to BullDog Hose Company for reliable, high-performing hose products. Manufactured from premium materials right in the United States, BullDog hoses offer durability, ease of use and several unique features. See why customers trust BullDog for bold hoses and customized solutions that are American Made Tough:

Unparalleled Durability
Your hoses need to withstand tough conditions — and that's where BullDog's products thrive. Our hoses have a high abrasion and heat resistance. The Hi-Combat II is able to withstand 2000 cycles on the U.L. abrasion test and 12,000 cycles on the F.M abrasion test programs, and the Firepower II has shown six times more heat resistance than conventional hoses on the Angus Constant Load Heat Test. Plus, the unique Armour Jacket coating provides further durability and water resistance, making your hose last long term.
Easy to Maneuver
The lightweight design of BullDog hoses gives you the flexibility and quickness to get the job done in high-pressure situations. Less drag resistance also causes less strain on the user, with the anti-kink feature ensuring no line failure or loss of flow in tight environments. The Firepower II passes the 34-, 24- and 18-inch doorway kink test, looping to 11 inches before a kink — staying strong even at 100 PSI of line pressure.
Stable Fluid Output
"American Made Tough" isn't just a slogan — it's who we are. Our attack hoses have no nozzle or hose whip, helping you remain in control of the line at all times. The strong design of our products allows you to focus on fighting fires without getting sidelined by a "slippery" hose.
Packability
BullDog hoses easily pack into hose beds and cross-lays, giving you the speed and convenience you need when timing is crucial. Just grab and go, without worrying about difficult folding processes or accidentally causing damage to your hose.
Unique Design Features
Our hoses stand out in a crowd. Some lines are available in up to six NFPA colors, with color that is extruded through the weave (not dyed) for maximum longevity and durability. Plus, on Hi-Combat II, firefighters and civilians can follow the "exit" and arrow markings to safety, a feature that comes included on all colors. For added customization, departments can get their name or up to 32 custom characters sewed into the hose for no additional cost.