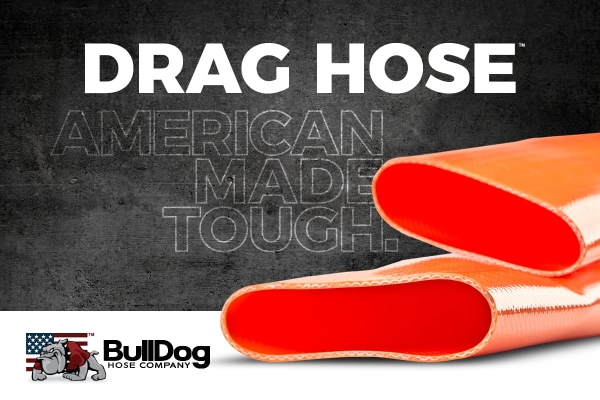 November 9, 2021
5 Reasons Drag Hose Is Ideal For Manure Dragline Application
In a manure dragline application, the hose is arguably the most important piece of equipment you can have to accomplish that goal. BullDog's Drag Hose is specifically made to give applicators that edge out in the field. To explain to you how it does that, we've put together five reasons why it's ideal for nutrient application.
For those in the manure dragline application business, you know that time is literally money. The faster a job can get done, the quicker you can move to the next. That's why as an applicator, you need every advantage you can get in order to become more efficient and effective.
Packability
Having the ability to load as much line as you can on a hose cart is key to ensuring that you have enough hose to get the field done in one go. As a flexible, lay-flat, large-diameter line, BullDog's Drag Hose is designed to be lightweight and compact for ideal storage on hose carts or hose reels.
Abrasion Resistance
When you are out in the field dragging a hose over rough terrain, there are countless objects and obstacles that can threaten the integrity of the line, such as drains, ditches, and other abrasive surfaces. You need a hose that can take a beating. Our Drag Hose is made with abrasion-resistant thermoplastic polyurethane. This line can stand up to tough and challenging environments that would compromise less-capable lines.
Extreme Durability
Along with its resistance to abrasive surfaces, the hose is constructed to be extremely durable. Drag Hose is manufactured with a through-the-weave construction that's comprised of a woven high-tenacity polyester reinforcement (encapsulated by the abrasion-resistant cover and lining). This level of hardiness means that this hose can handle higher burst pressures and stand up to the demanding environments of agricultural use.
Drag Coefficient
The interior lining of the hose is designed to lead to a lower loss of friction when transporting liquids. This means that your operation receives benefits such as higher flow rates and further pumping distances over varying terrain.
High Performance and Low Operating Costs
By combining the hose's construction with its ability to move more liquid faster and at a greater distance, you get the benefits of high performance and low operating costs. This advantage means that you need fewer pumps and less fuel consumption. Saving you both time and money, you can get more jobs done with less risk of having issues while applying nutrients.
For more information about this hose, contact a member of our sales team today.